My Group Wants to Use Haitihub All Together
In A Physical "Classroom"
Perfect For:
Church groups with a regular meeting space & time picked out
Community groups offering Creole classes to residents out of a "rec-center" environment
Groups facilitated by a native-speaker or other Creole–fluent person
Together In A "Classroom"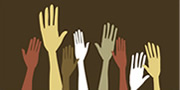 My group wants to use HaitiHub all
together in a physical "classroom"
You can jump in and do your best, knowing that mistakes... are part of the learning process. Whether you're a beginner or working towards fluency, at HaitiHub, you'll find a learning community.


Click here and you'll be able to:
Create your Group Admin profile.
Sign up your group
Purchase access for 5 - 30 people
Grant access to your teammates and start learning!
REMEMBER! You, as the group Admin, get full HaitiHub access and the Creole Made Easy textbook for FREE. Take this into consideration when choosing the size of your group.