HaitiHub Gift Pack
Give The Gift Of Communication, Real Connection, & Safety That Comes Only From Speaking Haitian Creole!
See how people are using HaitiHub to learn Haitian Creole - the only language spoken by all Haitians.
Too many people buy clothes, cameras, and equipment for Haiti without ever investing in the single most important tool for effective work, lasting friendships, and safety on the ground: Creole language skills.
Watch the video tour to see how students in 46 states in the U.S. plus 11 other countries are using HaitiHub to learn Haitian Creole.
Buy the HaitiHub Gift Pack for $129 and give a friend or loved one everything needed to learn the language.
A gift card granting one person Full Lifetime Access to the HaitiHub Modules online
A physical copy of the best-selling Creole Made Easy textbook
A one-page brochure explaining the HaitiHub System
A Personal Note From You (optional)

There is a word-limit for notes in our automated system but we will happily correspond via email for longer messages.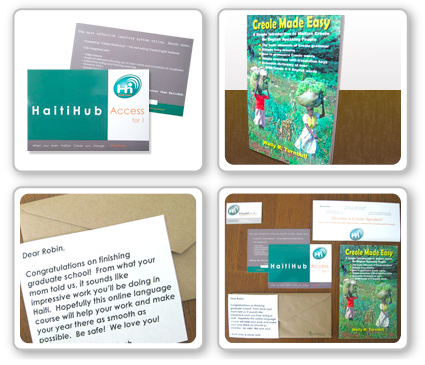 How to Give HaitiHub as a Gift
1

Click on the button below to "Give HaitiHub As A Gift"

2

Complete the 100% secure PayPal payment process

3

A HaitiHub Admin will email you to confirm the shipping destination address* and to finalize your personal note (if you choose to include one)
* You can ship the Gift Pack directly to the recipient or you can ship it to yourself if you would like to give the gift in-person
How It Works For The Recipient
1

The recipient opens up the Gift Pack and reads about Creole-learning with HaitiHub.

2

The recipient uses the special 5-digit code on the certificate to gain access immediately to the HaitiHub Modules online.

3

The recipient starts learning Haitian Creole, becoming more effective and safer with every lesson!
Click here to read dozens of testimonials from HaitiHub learners.
Still have a question? Ask us!