Let's meet the HaitiHub Student of the Month!
Aslan N.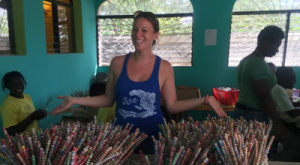 Aslan is a HaitiHub student, registered nurse, super-mom, and co-founder of Empower Haiti Together ( A for-profit company that works with a guiding social mission.) Did we mention she also recently completed her Masters of Public Health from OSU?
After having first traveled to Haiti as part of a medical missions team in 2010, Aslan realized she was seeing the same faces over and over again at the clinic: "[We were] essentially taking care of the same people every time. We were pulling the sick people out of the raging waters, but ignoring the fact that we were sending them on their way to walk across a broken bridge, only to fall in and need rescuing again."
After returning home to Oregon, Aslan went back to school to pursue a her Masters of Public Health in International Health to learn how she could facilitate something more "upstream, sustainable, and impactful in Haiti"
Throughout her continued trips to Haiti, she met her co-founders Sam & Ludger, and the trio decided to do something different: They began traveling out to communities in Haiti and doing "Empowerment Evaluations" to determine what the people living there felt were their biggest concerns through a simplified voting process. With this information they then determined how the community wanted to prioritize those concerns, and finally, created a plan for how the community wanted to begin addressing those concerns.
What started out as a few friends doing community work in Haiti in August 2014 led to the founding of Empower Haiti Together, in February 2015.
Now, Aslan, Sam, and Ludger are able to help effect meaningful change simply by enjoying the best of what Haiti has to offer – and by connecting friends, family, and students in the United States to these very same things that they love from Haiti. Empower Haiti Together connects Haitian artizans and coffee growers with a market here in the United States. They also offer yearly trips for individuals who are looking to break away from their standard Haiti itinerary to explore beautiful locations across the country – and support local enterprises all along the way.
Jose H.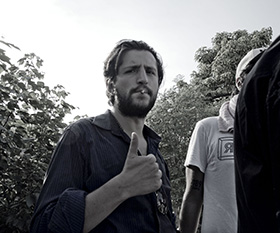 Jose is a HaitiHub All-Star, and filmmaker currently working on a documentary in Haiti. He became involved with Haiti after picking up a book about the history and the culture of the country – he was immediately captivated and determined to further explore what Haiti had to offer.
His current project, a documentary dealing with the effects of postcolonial imperialism in Haiti and how it affects people in different neighborhoods, is scheduled for completion towards the end of 2016.
The documentary follows several different characters throughout the year to see how they experience events currently shaping Haiti's democratic and social process. Because of the nature of the film, language has played a critical role in his ability to gather the information needed to string the pieces together:
"I guess language plays a very important role in any type of filmmaking but especially in this type of documentaries. Since we can't be there for everything we have to do a lot of interviews to figure out what happened and, more importantly, learn the point of view of the person/people it happened to."
Jose's upcoming trip will be his first as a Creole speaker, until now he had relied on a number of gifted translator's and friends to help him realize his vision for the film. Looking forward to his next trip Jose shared:
" [Until now] I have only been practicing it through phone and email. So far it really has made a difference. I'll be traveling to Haiti in a couple of weeks so we'll see what happens then. But, in my opinion, being able to communicate with someone using words makes it easier to take the relationship to a different level; and to understand the other person in a way that wouldn't be possible if the two of you didn't speak the same language. It sounds obvious but learning a different language allows you not only to know what people are saying but also get what they mean; to get a better understanding of their way of thinking."
Conny S.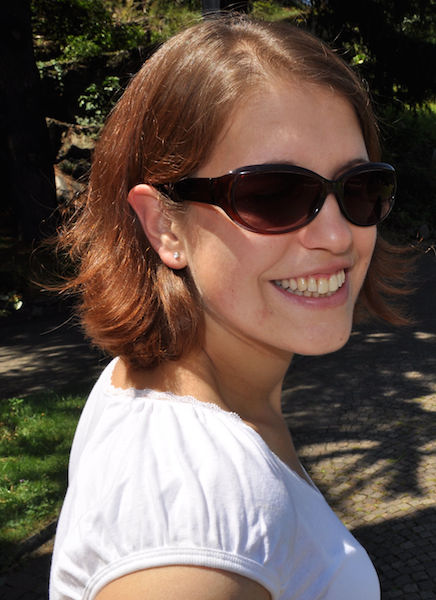 Conny began learning Haitian Creole in 2013, shortly after she and her husband decided to adopt from Haiti (They're from Germany!) They were unsure what age their children would be when they were matched (if they would be verbal yet, or not) but felt strongly that regardless of their age it would be important to speak the language of their birth country. That year, they were matched with two children, a brother and sister.
"Speaking creole made it much easier for us to connect with our children, because they don't speak French yet (they only learn it at school but they don't go to school yet). After learning Creole with the help of Haitihub and the Sweetcoconuts blog, I understood what our children (and other children) said, or at least most of it, and I was able to ask them something or tell them something. That helped a lot!!! With the nounous I could speak French, which I speak better than Creole, but the nounous at the orphanage were very impressed when they heard me talking to our kids in Haitian Creole. They had never seen adoptive parents who spoke Haitian Creole before."
While the adoption process has been a long one – stretching over two years – Conny says that there have been so many moments of joy along the way:
"It was an unbelievable joy when we heard we will be the parents of twins, but it was also an unbelievable touching moment when we saw our kids for the first time, and when they sat on our lap for the first time. A great joy I probably wouldn't have experienced if I didn't speak Creole was this one: The first day of our visit, our daughter sat on my lap, and other children came and touched me, looking for some affection. Our daughter pushed them away saying "Non, se manmanblan pa m!" It tugged at my heartstrings!"
Another occasion that stands out for Conny was giving her children the photobooks she and her husband had created to introduce them to life in Germany:
"We heard about the photo book from other adoptive parents. They had just created a photo book without text, so that their children had a souvenir for the period the adoptive parents would be away. I had the idea, if we wrote some things in Creole, explaining the photos, perhaps the nounous could read it to them. Actually, I don't know if they have the time to do that, but I like the idea that it's possible."
As they prepare to bring their son and daughter home, Conny says the thing she's looking forward to most is "just being together with them, being a family!"
Adopting? You can create your own photobook for your child in Haiti with the help of the template available here: https://www.haitihub.com/creole-adoption-photobook/.
Kathleen N.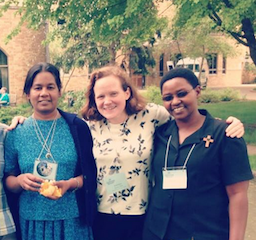 Kathleen is a HaitiHub All-Star and long-term volunteer working in Cap Haitian, Haiti.
After living and working in Haiti from August 2010 – October 2011, Kathleen returned in September 2014 to serve as a clinical social worker (focusing primarily on play therapy and psycho-education) for the children residing at Mary Gate of Heaven Orphanage, a children's home sponsored by the Sisters of the Holy Cross in Cap Haitian.
For this month's feature on self-care for long-term volunteers serving in Haiti, she graciously agreed to give some advice based on her own experiences.
In the face of the everyday challenges of living abroad in Haiti and the particular stressors of her job, Kathleen says a few things are key to maintaining her own health and wellness:
"There are several things I do to help me to deal with the challenges of living abroad as well as the typical stressors that we encounter when working closely with people who have experienced trauma and loss. I take time for prayer, meditation and journal daily. I keep in touch with friends, my religious congregation (Marianites of Holy Cross) and my family. Some regular physical exercise is also essential for me personally, if I am to do my best work."
When it comes to deciding whether or not volunteering long-term is a commitment you are willing (and ready) to make, Kathleen suggested that one of your top priorities should be to determine how your unique gifts will match the perceived needs of the people in the community you are intending to serve. She also said that it's important that you be prepared to serve in a way that is empowering and respectful of all involved.
Finally, we asked Kathleen what the biggest blessing to come out of her time in Haiti has been:
"It is such a privilege to journey with people, to build relationships, and a wonderful gift to see growth, learning and healing that occurs in the lives of people especially children."
Callie H.

Callie first came to Haiti on a short-term mission trip in 2011, a year later in 2012 she decided to make Haiti home. Picking up where she left off in 2011, Callie made Creole learning a priority for her new life in Haiti: " When I moved here full time in 2012 I would carry around an English to Creole dictionary with me and constantly looked up words in daily conversation and repeat them to my self until I finally memorized them." Taking this first step and committing to learning Creole led to the close relationships that she now cherishes with her co-workers, friends, and neighbors.
But not learning the language was never really an option. Being able to communicate, share, learn and (very importantly) joke with the people around her was something that Callie says she needed if she was going to make Haiti her long- term home:
"I loved shopping on the streets and going to local restos testing my Creole and surprising the locals. I would have to say that imagining my life in Haiti long term WITHOUT knowing Creole seems incredibly challenging…
Sometimes I like to just listen to locals talk, as they expect me not to know Creole. I will randomly join their conversation with a comment, they will looked shocked, turn to me and say "Ou pale Creole"I will reply "Ou mem tou?", we will all laugh and a small bond is formed as quick as that.
People respect you more when you speak the language; it helps show your commitment and concern for learning the culture. It shows you are here to stay, you are long term, and you care."
Furthermore, speaking Creole has opened Callie up to some of the best things that Haiti has to offer:
"I love the warm culture, the loudness, the affection and the relationships you form in this Caribbean nation."
Callie currently works as a marketing consultant with the Papillon Enterprise in Delmas 75. In addition to her regular job duties, she does graphic design training with some of the other Papillon employees, offers tours of their store for visitors and guests, and helps out with some of the other "random daily activities" that accompany life in Haiti.
Shana V.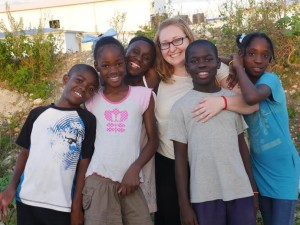 After being accepted for a year long volunteer position as a Communications Manager with NPH in Haiti, Shana decided to begin studying Haitian Creole in preparation for her departure.
Part of her responsibilities in this position included speaking with fundraisers back in the U.S. and Europe and keeping supporters up to date with the activities at the orphanage by gathering stories and photographs of the lives impacted by the efforts of NPH's workers and volunteers.
Shana shared with us that language learning has never been a "quick learn" for her and she wanted to get as much of a head start on learning Creole as possible. Now 6 months into her stay, she says that her predeparture preparation definitely paid off and enabled her to land in the country with the tools that she needed to learn more.
"I feel good now. I think it's great to be able to talk to the kids and ask questions … [to] connect with them on a deeper level […has] been great for my work with them and helping them to be more comfortable with me so that I can learn their stories."
As the only foreigner in her program, Shana says that basic language skills have been essential to her ability to collaborate effectively with her coworkers and to build relationships with those around her.
Specifically she remembers the help of friends Michelet and Gregory who, early on, patiently worked through what she describes as numerous, 'miming sessions', in order to help her understand and learn more of the language.
When she returns to the States, Shana says she hopes to remain involved with the organization and its work and will be looking for ways to maintain her Creole.
Bon travay zanmi nou!
Katie L.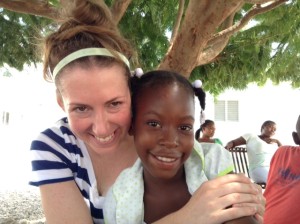 Katie is a NPH volunteer working as a NICU nurse at Saint Damien's Children's Hospital in Tabarre Haiti.
Now six months into her year long stay, Katie says that Creole is a must for anyone looking to make the most of their time in Haiti:
"Other than making it far easier to survive and get around in Haiti, knowing Creole will allow you to get to know people better and to more fully appreciate the culture and the country. Also, it's not hard! I know that I personally was very excited to learn that there are no verb conjugations or gender-specific articles in Creole."
That's not to say there won't be pitfalls; one of our favorite stories that Katie shared with us during our meet-up in Port au Prince describes one such incident:
"One day early in my time here, I was out driving with one of my Haitian friends when I saw some baby goats playing on the side of the road. I thought they were cute and exclaimed, "Ti mounkabrit!" He started laughing so hard that he had to pull the car over, and it took him a while to explain that instead of saying, "Little goat," (ticabrit), I had said, "Goat child." Some of the Haitians here still call me Ti mounkabrit."
Despite the inevitable mishaps, Katie's found that speaking Creole ultimately helps her better connect with her colleagues in Haiti:
"I like the saying, "Men anpil, chay pa lou," which means, "Many hands make the load
lighter." One of my friends at work taught it to me, and it has always stayed in my mind. To me, it is such a fitting metaphor for the partnership that I think those of us who choose to come to Haiti hope to form here as we work alongside our Haitian colleagues."
Finally, Creole has been integral to the relationships formed outside of the hospital too.
When she's not on call for the neonatal ICU, Katie often spends her time across the street with the children who live at FWAL (Father Wasson Angels of Light), one of NPH's other programs in Tabarre.
"I've sponsored a little girl who lives there since shortly after the earthquake, so it has been really special to have the chance to get to know her in person."
Sherry K.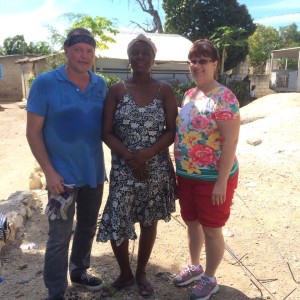 Sherry took her first trip to Haiti in February, 2013 as part of a medical mission team. On that first trip, she says that the language barrier weighed heavily on her:
"I was taking blood pressures for a medical clinic and wanted so much to let them know that I cared. The only thing I knew to do was to touch each person on his or her arm and say, "Bonjou" or "Bonswa." I promised my interpreter that on my next trip I would be able to speak some Creole!"
When she returned to the States, Sherry took on the task of learning Creole, and quickly rose to the ranks of a HaitiHub All-Star!
When she returned to Haiti she explains that she found her relationships had completely changed:
"People who were just doing their jobs before were now "zanmi m yo!" (My friends!)"
This level of connection has allowed her to share updates about her life, and learn about what's going on in the lives of her new friends. She has also used her Creole to communicate with the women in the communities where she visits, and has even passed along her love of crocheting!
Sherry just recently returned from a 2 week trip to Haiti. During the first week, she worked with Mission of Hope to help reconstruct homes lost in the 2010 earthquake.
During the 2nd week, she stayed in the home of a Haitian friend in Cabaret. She says that week one and week two could not have been two more different experiences:
"Doing life alongside our Haitian friends produced a much different view than a structured mission trip…
We want to learn more about "doing life alongside" instead of doing "for" our Haitian friends. I am excited where that thought may lead us!"
Thanks for sharing with us Sherry! Kenbe la zanminou!
Joe B.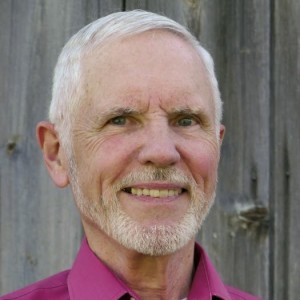 Joe's involvement in Haiti dates back almost two decades, but when he became the U.S. Donor Coordinator for a Haitian children's scholarship program just a few years ago he quickly realized the importance of solid communication skills. He knew that he needed to learn Kreyòl in order to build trust and an authentic sense of collaboration with the team in Haiti.
"I could have used an interpreter, but there was no budget. Further, another person in between would have only served to maintain the separation we were feeling."
Not only did Joe hit All-Star Status through Haiti-Hub, but he has also continued to actively seek out any and all opportunities to improve his Creole.
Last summer he spent 3 weeks in a Haitian Creole Language Immersion program in Haiti!
Most recently he has begun organizing a meet-up group in our All-Star community:
"A couple of other All-Stars have joined me in a Monday night Skype meet-up to read, translate, answer questions and speak as much Kreyòl as possible for one hour. None of us are native speakers, but we know enough to assist one another on the fundamentals. I have noticed in the couple of months we've done this the butterflies are gradually subsiding. The others have been an encouragement to me."
As fellow Creole learners and speakers, we applaud his drive and dedication!
What's the secret behind it?
"If you care enough to invest in their language you become less and less of a stranger. The road to mastery is to keep at it, and never give up"
Thanks for the reminder Joe, and for all of your hard work!
When asked what his favorite expression is in Creole, Joe responded: "M sezi", because he is surprised by the progress he has been able to make with the language. Just goes to show, hard work definitely pays off!
Christina B.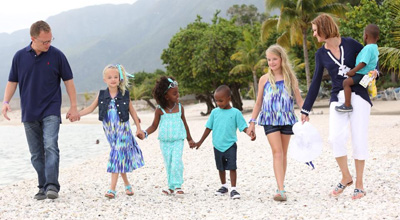 Christina is a HaitiHub All-Star living in central Florida with her husband and their 5 children.
She has been a huge help to us here at HaitiHub, lending her expertise on all things Creole and kids for the upcoming HaitiHub modules!
Christina first began learning Haitian Creole in the summer of 2013, hoping it would be, "a productive way to channel some of [her] anxious energy and impatience during the long Haiti adoption process".
She first travelled to Haiti in 2012 to meet her sons. In the Fall of 2013 she made her first trip to Haiti as a Creole speaker. For Christina, that trip reinforced the importance of learning the language and she says she was, "astonished at how much warmer and more engaging people in general were" when she reached out to them in Creole.
When her sons came home this past June she made a commitment to speak 100% Creole with them, and her family has jumped on board too: "My three non-Haitian daughters now have a huge Creole vocabulary and actively seek out Creole speakers to engage in conversations with."
As the boys grow up, Christina and her family hope to stay actively involved in Haiti.
Finally, she says that their local Haitian community has also been a huge blessing:
"Haitian children at school have befriended our children and their families have reached out to ours to help us connect with other Haitians and Creole speakers…We've had a number of people approach for a chat about Haiti after overhearing our family's conversations at the park or the beach or the grocery store. I have a magnet of the Haiti flag on the back of my car and that's been a conversation-starter in many a parking lot!"
When asked for her favorite expression in Haitian Creole Christina responded: " 'Mwen renmen ou!' Love saying it to my children—and hearing them say it to me."
Janet B.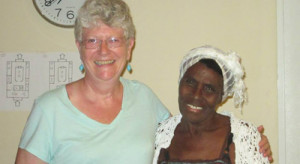 Janet (left) pictured with Mme Claude. Mme Claude helps provide and care for Medical Teams from Florida when they travel to Campeche Dumay, she's also a sweet and patient Creole teacher for the volunteers!
Janet is a College Librarian in Maine and a HaitiHub All-Star. Janet began studying Haitian Creole in 2007 to help her communicate with friends and colleagues in her church's Sister Parish near Les Cayes, Haiti. Asked to describe her role in Haiti she wrote: "I see my role as ambassador and cheerleader, keeping everyone informed and excited about what's happening."
Janet has also worked in Campeche Dumay (near Croix-des-Bouquets) with a medical team from Florida and helped at a guesthouse in Port-au-Prince. She is always happy to be in Haiti.
When asked for some advice to share about learning Haitian Creole and working in Haiti she responded:
"Listen! Our Haitian partners know a lot… We can learn from them. And listen to spoken Kreyòl as much as you can – communicating means being able to speak to others and understand what they say to us! I also think it's vitally important to learn about Haitian history, culture, literature, current events… anything that helps me understand Haiti. I'm a college librarian, so I can't help doing research!"
Learning Haitian Creole has helped her to communicate directly with friends in her sister parish. The most wonderful compliment she says she's ever received is "ou se Ayisyèn." Finally, the one phrase she thinks is the most important for her work in Haiti? "M' kontan anpil wè ou ankò". We couldn't agree more Janet.
Louise L.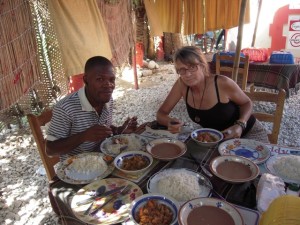 Louise is a HaitiHub All-Star who first took on the task of learning Haitian Creole to help her in her work as a nurse practitioner operating on the border of the Dominican Republic and Haiti.
Following the cholera epidemic, her focus shifted to working in South-Eastern Haiti. Currently, Louise is working with Hispaniola Health Partners to provide life-saving cervical cancer screening to women in the area that she serves.
In the rural areas where she works, limited resources make common cervical screening practices difficult to administer. Through the innovation that only need can create, Hispaniola Health Partners is able to screen women using a method known as "VIA/cryo" or "see & treat". The organization has already screened more than 500 women this year.
When asked what the biggest benefit has been to her since learning to communicate in Creole, Louise responded: "Being able to be myself and not depend on a translator!"
Thank you, Louise, for investing in your Creole skills and raising the bar on aid work in Haiti!
Learn more about Louise and her work in Haiti on her personal blog site:
https://llindenmeyr.blogspot.com/